We'll continue on with our reports on arena updates in 2016-2017. We've decided to help arena roaming fans keep track of new arena opportunities, as well as those venues that may end up with new hockey tenants, or end up closing or vacant this upcoming season. We'll have a series of reports as the season gets closer. Today we will take a look at what is happening from an arena standpoint in college hockey in the U.S.  We'll also take a look at alternate venue and neutral site games, some of which will be first time venues, and others may be yearly events, but are worthy of noting as you may have a chance to add an arena that you may not have otherwise had a chance at.  We enjoy college hockey for the pep bands and vocal student sections, and this list will give you a rundown on what is happening this season.
Plus:   Class of 1965 Arena     Colgate Raiders
             Webster Bank Arena     Sacred Heart Pioneers
             MassMutual Center     AIC Yellow Jackets
Seemingly every season in the NCAA there is a new venue or 2 which opens, often replacing a classic arena.  This year, Colgate gets a new arena taking the place of Starr Rink, which was featured in the movie Slap Shot.  The new venue looks to be a good one, with a small capacity, and college feel to it.  The other changes are a little different this season as AIC and Sacred Heart both move into venues which will be way too big for the numbers of fans they will attract.  All in the name of progress I guess.  College hockey, especially on the East Coast, is trying to upgrade its image and have higher capacity venues.  Hopefully this works out for the Yellow Jackets and Pioneers.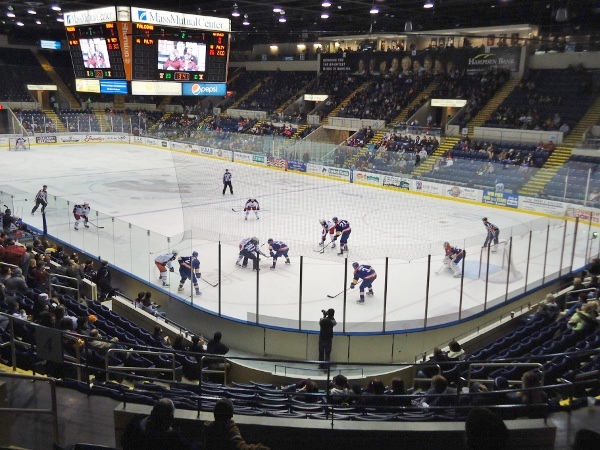 MassMutual Center in Springfield, Massachusetts will be home of the AIC Yellow Jackets in addition to Springfield's AHL squad
Minus:  Starr Rink     Colgate Raiders
               Milford Ice Pavilion     Sacred Heart Pioneers
               Olympia Ice Center     AIC Yellow Jackets
With the pluses come the minuses as fans in Hamilton, New York will no longer get to watch D1 hockey in a setting where Paul Newman skated as Reggie Dunlop.  We will miss this old barn.  Sacred Heart leaves the Milford Ice Pavilion, but that was more of a community arena than a D1 venue, and folks in West Springfield will still have the Pics, one of the more well known junior teams in New England, to watch after AIC's departure.  There may still be a chance to see a final AIC game in West Springfield, as the AIC schedule is still not posted on the school's athletic website, and other sources list a single game here.  Nonetheless Olympia Ice Center qualifies for minus status.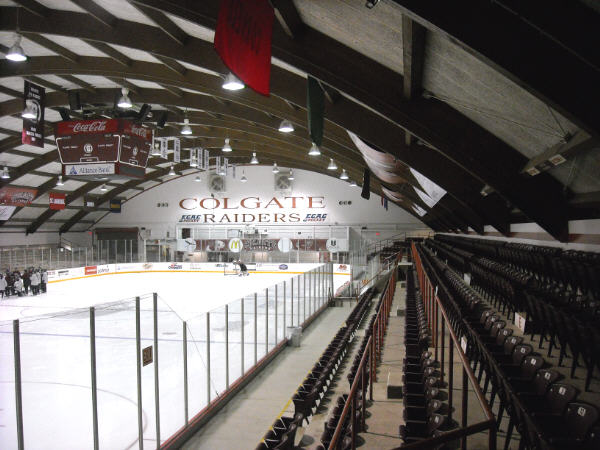 Starr Rink, on the south end of Colgate's campus, is being replaced as the Raiders home venue by Class of 1965 Arena 
Each year college hockey sees quite a few venues hold one-off, or a limited number of games, be they a 2 day tournament, or a single event.  Some of these arenas listed have hosted the occasional college hockey game for decades, whereas others may be holding events for the first time.  We figured you would want to have the whole list in case you can plan a trip around any of these games. 
Bonus Plus: 
Resch Center     Green Bay, WI
Wisonsin hosts Northern Michigan at this home of the USHL's Gamblers on October 7th and 8th
DCU Center     Worcester, MA
Worcester is without an AHL team again this season, and the ECHL supposedly moves in next year.  In the mean time Holy Cross is discussing joining Hockey East and will host Hockey East opponents BC and Providence on October 15th and 22nd.
Blue Cross Arena     Rochester, NY
RIT seems to have a game or 2 here each season, with a contest against UConn October 15th here this season
Patty Ice Arena     Fairbanks, AK
University of Alaska will host a pair of games at this smaller venue against Minnesota State on October 21st and 22nd
Cross Insurance Arena     Portland, ME
The AHL is gone from Portland, but the Maine Black Bears will host a trio of games here November 4th, November 26th, and February 10th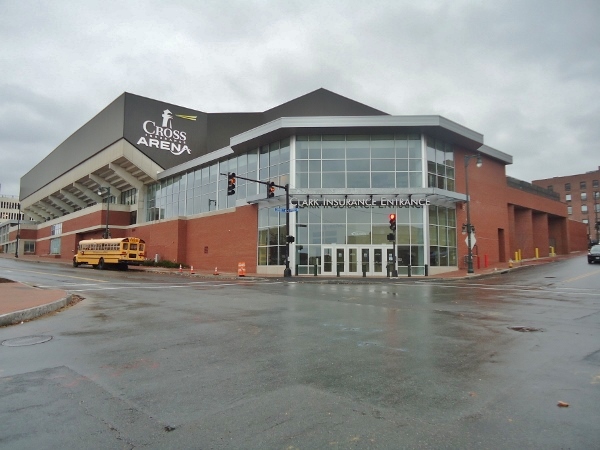 Cross Insurance Arena in Portland, Maine will not host the Portland Pirates this season, but will have three of U. Maine contests

Madison Square Garden     New York, NY
There always seems to be a couple of college hockey games at MSG each season.  This year Cornell plays UNH November 26th, BC takes on North Dakota on December 3rd, and Wisconsin meets Ohio State on January 28th
Consol Energy Center     Pittsburgh, PA
The home of the Penguins hosts a yearly tournament known as the Three Rivers Classic, which is on December 29th and 30th.  Robert Morris hosts the tourney, but will also play Dartmouth here in a game on November 27th
Germain Arena     Estero, Florida
The home of the ECHL's Everblades hosts an annual holiday tournament, which this season will be played on December 28th and 29th
Joe Louis Arena     Detroit, MI
The Joe will no longer host the NHL's Red Wings after this season, so a good opportunity to attend this arena would be during the Great Lakes Invitational on December 29th and 30th
SNHU Arena     Manchester, NH
UNH always host a game or 2 in Manchester, this season they take on Maine on December 30th at the renamed Verizon Wirelss Arena
Huntington Center     Toledo, OH
The home of the Toledo Walleye will be the home of the Bowling Green Falcons for a game against RIT on December 30th
Prescott Valley Event Center     Prescott Valley, AZ
With Arizona State having hockey now in the desert a tourney will be played at the former home of the Central League's Arizona Sundogs on December 30th and New Years Eve
TD Garden     Boston, MA
College hockey comes to the Garden several times this year, with the Beanpot the first 2 Mondays in February as always, but a pair of Hockey East double headers are scheduled on November 7th and 14th for additional college hockey action here
Times Union Center     Albany, New York
The annual Mayor's Cup pits RPI against Union on January 9th this season
Xcel Energy Center     Saint Paul, MN
The North Star Challenge Cup comes to the home of the Minnesota Wild on January 27th and 28th
Wells Fargo Center     Philadelphia, PA
Penn State hosts an annual game in Philly.  This time the wise geographic opponent of Princeton will take on the Lions on January 28th here
Northford Ice Pavilion     Northford, CT
With Sacred Heart moving to the large Webster Bank Arena they do have a pair of games at smaller venues, with Northford hosting one on November 12th
Jennings-Fairchild Rink     Avon, CT
The other alternate venue game for Sacred Heart is the annual game at Avon Old Farms Academy, one of the most fabled prep school hockey venues in America.  This year's game is on December 10th
College hockey season has just opened, and the level of plan and fan involvement is certainly enjoyable at most venues.  We hope you will be able to use this list to plan a trip to a game or two at an arena you may not have otherwise had the chance to attend.  As Always Roaming The Rinks will try to keep you updated on arena and team changes in the world of hockey.