Last report we brought you a look at the Junior A leagues in Eastern Canada and the NAHL in the States.  We'll continue on with our reports on arena updates in 2016-2017.  We've decided to help arena roaming fans keep track of new arena opportunities, as well as those venues that may end up with new hockey tenants, or end up closing or vacant this upcoming season. We'll have a series of reports as the season gets closer.  Picking up where we last left off we will keep working our way from East to West and cover the remaining CJHL leagues.  
SIJHL:  Plus- Ralph Engelstad Arena     Thief River Falls Norskies
In Western Ontario the SIJHL has had a bit of turnover in teams the last few seasons, and only fielded 5 clubs last season.  This year they are up to 6 teams with the addition of the squad in Thief River Falls, Minnesota.  The Norskies will have a beautiful modern arena to play out of, and hopefully the town will embrace the team.   Ralph Engelstad Arena shares a name with the University of North Dakota's arena, but this one is much smaller, although from photos we've seen looks nearly as nice.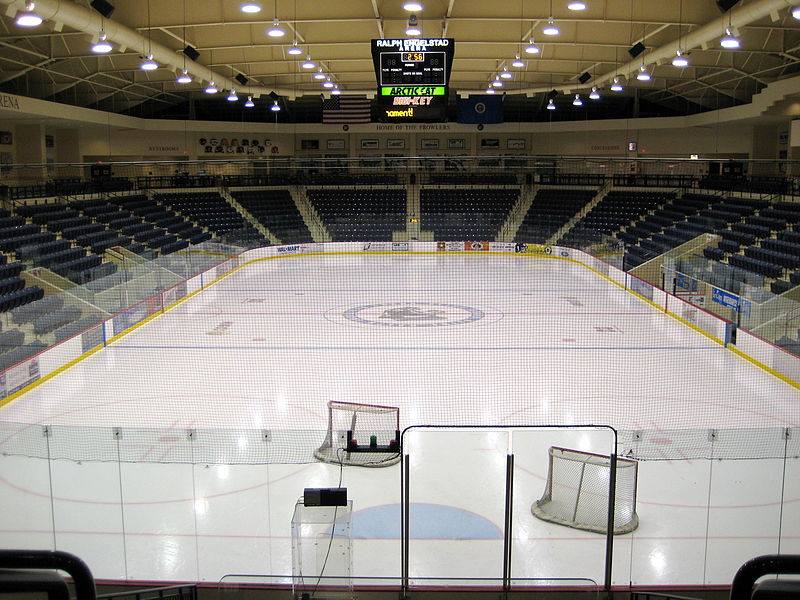 Ralph Engelstad Arena in Thief River Falls, Minnesota will be home of the new SIJHL team known as the Thief River Falls Norskies.  Photo from Wikipedia common images uploaded by Brandon Maurisak
MJHL:  Even
In Manitobs things remain status quo as 11 teams will take the ice this season in the same barns as last year.  The MJHL is a stable league and provides quality competition.  
SJHL:  Plus- Legends Centre     Warman Showcase
                        Eston Community Complex     Kindersley Klippers alternate venue
                        Macklin Communiplex     Kindersley Klippers alternate venue
                        Moosomin Communiplex     Neutral site game
                        Pinehouse Arena     La Ronge Wolves alternate venue
In Saskatchewan the same 12 teams will remain for this season.  Scheduling and venue info is a bit hard to come by in this league as the website is a bit short on information, so RTR reader Matt Bahm came through and provided us with info on some interesting alternate venue games which will take place this season.  A showcase in Warman will take place September 25-28.  Later in the season Kindersley plays a  couple of games away from home, in Eston Novermber 26, and Macklin on December 8.  Moosomin sees a matchup of Yorkton and Weyburn taking the ice on November 5, and will likely find fans from both towns on site as it is less than an hour and a half from each location when this game is played.  Way up North, in the aboriginal village of Pinehouse a new hockey arena was recently constructed, and the La Ronge Wolves will travel to town and play the Battlefords North Stars in what should be an interesting event.
AJHL: Plus- Jubilee Recreation Centre     Fort Sasketchewan neutral site game
In Alberta the only venue change of note for this season is a return of hockey to Fort Sasketchewan, a town which once hosted the AJHL club known as the Fort Sasketchewan Traders.  November 6 will find Sherwood Park Crusaders taking on the Lloydminster Bobcats for the fans in Fort Sasketchewan.  Otherwise the 16 teams in the AJHL will keep plugging along in what is a very strong league.
BCHL: Plus- George Preston Recreation Centre     Langley Rivermen
                        Prospera Centre Chilliwack secondary rink     BCHL Showcase
              Minus- Langley Events Centre     Langley Rivermen
The BCHL is commonly referred to as the best Junior A league in North America.  The 17 teams will remain in the same cities as last season, however in Langley the Rivermen will be pushed aside by the WHL's Vancouver Giants, and will find a home in the George Preston Recreation Centre which may better suit them as the Langley Events Centre has a bit of a high seating capacity for Junior A.  The only other venue addition, albeit a minor one, sees the second ice pad in use during the BCHL Showcase in Chilliwack from September 21-25.                            
A lot can happen between now and when the puck drops on the season. We'll keep you posted. Look for more Plus/Minus Arena Reports covering juniors, college, pro, and even some semi-pro leagues and venues. If things change as the season approaches we will keep you up to date, and hope you will get out to some arenas to see lots of live hockey this season.