We'll continue on with our reports on arena updates in 2016-2017. We've decided to help arena roaming fans keep track of new arena opportunities, as well as those venues that may end up with new hockey tenants, or end up closing or vacant this upcoming season. We'll have a series of reports as the season gets closer. Today we will take a look at what is happening from an arena standpoint in the world of Junior A hockey North America.  With the 10 Canadian leagues that make up the CJHL as well as the NAHL in the States there is a bit of movement and shuffling, even though, as a whole, the leagues at this level are rather stable.  We'll break things down in a couple of reports, focusing first on the NAHL and Eastern Canadian Leagues.
NAHL:  Plus- Hirsch Memorial Coliseum     Shreveport Mudbugs
                         Canton Ice House     Northeast Generals
                         New England Sports Village     Northeast Generals
The NAHL will not have any minuses this season as 24 teams will take the ice. A pair of new teams account for the pluses, as hockey returns to the Shreveport Area for the first time since 2011 when the Central Hockey League version of the Mudbugs folded.  Hirsch Memorial Coliseum will actually have a major hockey tenant for the first time since 2000 however as the latter years of the pro hockey Mudbugs were spent in Bossier City at the newer Century Tel Center.  In Massachusetts, the Eastern expansion of the NAHL continues as the generically named  Northeast Generals will field a NAHL team in addition to their NA3HL squad and will call the newly-built  New England Sports Village home, however the first few games of the season are slated for the Canton Ice House, providing additional opportunities for arena roaming fans to catch some action at a different barn.  The NAHL is a quality league and provides good entertainment to some areas that may not have access to pro hockey.

MHL: Plus- Colchester Legion Stadium    MHL Showcase
In the Maritimes there are no new teams or arenas to be in use regularly this upcoming season, however the league is having a showcase hosted by the Truro Bearcats in Truro, Nova Scotia in early October.  In addition to having games at the Bearcats normal home, there will be some contests at the 1960's  era barn.  This will provide at bit of a one-off opportunity to catch some action at this old arena.  Otherwise the league continues on and remains stable with 12 clubs again this season.
LHJQ: Plus- Arena Regional de La Riviere-Du-Nord     St.-Jerome Pantheres
             Minus- Arena Melancon     St.-Jerome Pantheres
Working our way West we cover things in Quebec.  The league will again see 12 teams take this ice, with St.-Jerome getting a new building, which will also host a league showcase this season.  The new arena looks like a showplace, but we are sad to see the former QMJHL home arena of Arena Melancon no longer in use for junior hockey.
CCHL: Plus- Shawville Arena     Nepean Raiders alternate home game 
                        Smiths Falls District & Youth Centre     Smiths Falls Bears  
The CCHL is, and has been, quite stable with very little turnover in teams, and only the occasional new venue.  This season is much the same, however there are a couple of chances during the regular season for fans to catch action at alternate barns.  In Smiths Falls on January 28th, the Bears will play again at their old arena, now more commonly known as the Youth Arena, for a single game.  Further North, Shawville lost its EOJHL team before last season as that Junior B league was transformed into the CCHL2.  Last year there was also a single CCHL game played there, so this is not an entirely new venue, however is worthy of listing in Plus status as it is a rare chance to catch junior hockey here at this Quebec border town which sits on the Ottawa River.  Save the date on December 3 if you want to catch the game here.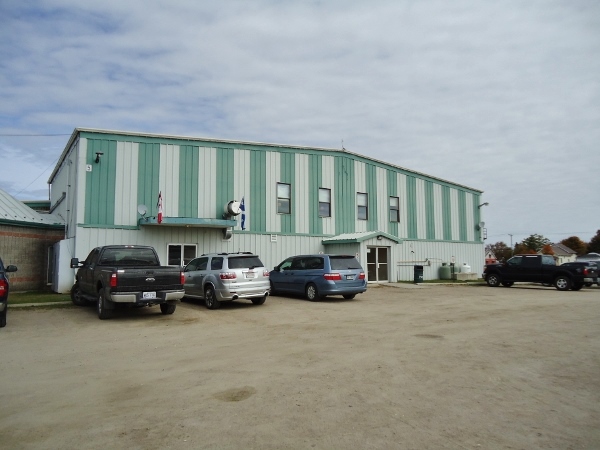 Shawville Arena in Shawville, Quebec will host Junior A action on December 3 as the Nepean Raiders take on the Smiths Falls Bears in a CCHL regular season game.  Shawville was home of the EOJHL's Pontiacs before losing their Junior B team when leagues reorganized last season in Eastern Ontario.   
NOJHL: Plus- Gerry McCrory Countryside Sports Complex     NOJHL Showcase
In Northern Ontario there was quite a bit of expansion before last season, however things are stable, and the league will again field the same 12 franchises.  No other arena changes will take place, however the league will have a showcase Novermber 11th and 12th at Gerry McCrory Countryside Sports Complex in Sudbury for those looking to enjoy some hockey at a different venue.  The NOJHL is full of simple small town arenas, yet offers great competition and fun atmospheres for hockey fans.
OJHL: Plus-HarborCenter Rink 2     OJHL Showcase
                      Victoria Village Arena     North York Rangers
Not much is new in the OJHL either this season.  The largely Toronto area based league has been struggling a bit with attendance, but stays at the same 22 clubs for this season.  The Pluses are actually a couple of alternate venues which will be thrown into the mix this season as the Buffalo Junior Sabres host the league showcase in late September, and the team will also play an additional home game at the smaller arena at HarborCenter earlier in the season.  The North York  Rangers have their early season home games slated at Victoria Village Arena in North York instead of their usual home of the Herb Carnegie Centennial Centre.  They move back into their regular arena after the first 4 home games.  The OJHL is slated to use full cages and faceshields after this season, so attendance may continue to decline in this league.  
We'll pick up our look at the arena picture for this upcoming season in Junior A by continuing West and reporting on the remaining CJHL leagues next time.  A lot can happen between now and when the puck drops on the season. We'll keep you posted. Look for more Plus/Minus Arena Reports covering juniors, college, pro, and even some semi-pro leagues and venues. If things change as the season approaches we will keep you up to date, and hope you will get out to some arenas to see lots of live hockey this season.