It's back again for 2016-2017.  We've decided to help arena roaming fans keep track of new arena opportunities, as well as those venues that may end up with new hockey tenants, or end up closing or vacant this upcoming season. We'll have a series of reports as the season gets closer. Today we will take a look at what is happening from an arena standpoint in the world of pro hockey in North America.
NHL: Plus - Rogers Place     Edmonton Oilers
          Minus - Rexall Place     Edmonton Oilers 

There is a lot to celebrate in Edmonton as not only do they have Connor McDavid, they will be moving into a new arena in the form of Rogers Place.  Sadly Rexall Place will not see anymore hockey as even the WHL's Oil Kings will be moving into the new venue.  Look for more changes next season with expansion, but for now Edmonton is the lone arena change at the top of the pro hockey food chain this season.
AHL: Plus - Tucson Convention Center     Tucson Roadrunners
                     UW-Milwaukee Panterh Arena     Milwaukee Admirals
           Minus - Cross Insurance Arena     Portland Pirates
                         BMO Harris Bradley Center     Milwaukee Admirals
The shakeup in the AHL continues this season, although with only a total of 2 arena changes.  In a 3 way switch the Coyotes moved their affiliate from Springfield to the desert into a Tucson market which hasn't hosted hockey since 1999. We'll see how that goes.  Portland is then purchased to backfill the Springfield market leaving the fine folks in Maine without hockey in Portland this season, although there is talk of an ECHL team there in the future.  In Milwaukee things are a bit simpler, as the Admirals move out of their NBA venue into the arena next door, which is most commonly known as MECCA Arena.  The 1950's building hasn't seen a hockey tenant since 1988, but could make for a decent home for the Admirals as the city begins replacement of their larger venue.  With the NHL almost entirely pulling the strings in the AHL look for more changes in the future as team location is now far more important than having a hockey market with a tradition of supporting a team or familiarity with the game.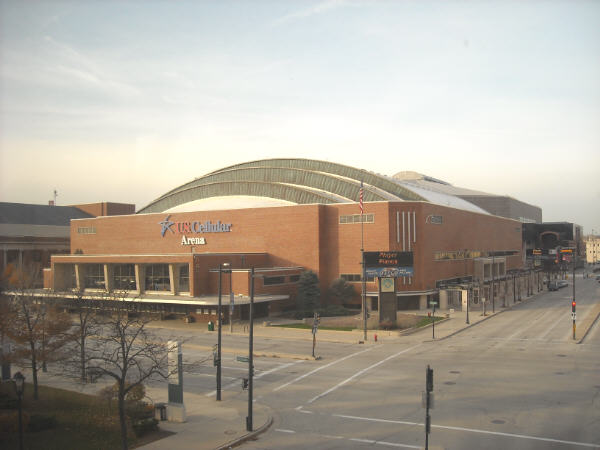 UW-Milwaukee Panther Arena, known as US Cellular Arena when we were in Milwaukee, will be summoned back into action as the Milwaukee Admirals will use this arena now, instead of the BMO Harris Bradley Center, which sits in the background of this photo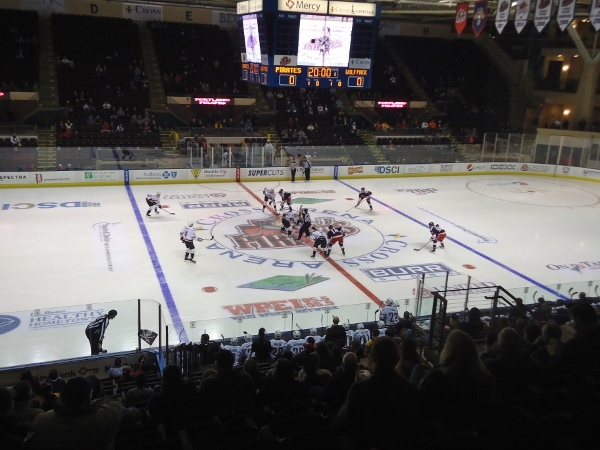 Cross Insurance Arena in Portland, Maine will not have a hockey tenant this season as the Pirates were a casualty of the recent AHL shakeup  
ECHL: Minus - Ford Center     Evansville Icemen
The ECHL is nearly as intertwined with the NHL as the AHL is these days, but the net result is a single arena change this season as the Icemen go dormant after the owner stated the team would move to Owensboro, Kentucky.  That should work out OK for folks in Evansville though, as they will have a team this season as the SPHL comes to town in the form of the Evansville Thunderbolts.  The ECHL is now at 27 franchises, but a few are on very shaky ground, so look for more changes in the future.
SPHL: Plus - Ford Center     Evansville Thunderbolts
                       Berglund Center     Roanoke Rail Tard Dawgs
              Minus - Cajundome     Louisiana Ice Gators
Down South the league will field 10 teams this season.  Evansville comes over from the ECHL, and hockey returns to Roanoke at the venue formerly known as the Roanoke Civic Center, which hasn't seen pro hockey since the UHL's Roanoke Valley Vipers left in 2006.  In Lafayette, Lousiana the Ice Gators find themselves without a home arena to play in as the Cajundome will be undergoing renovations.  They are slated to return in 2017-2018, but you never know what will happen once a team sits out a season.  Nonetheless, the SPHL is on solid ground and offers an entertaining product for its fans.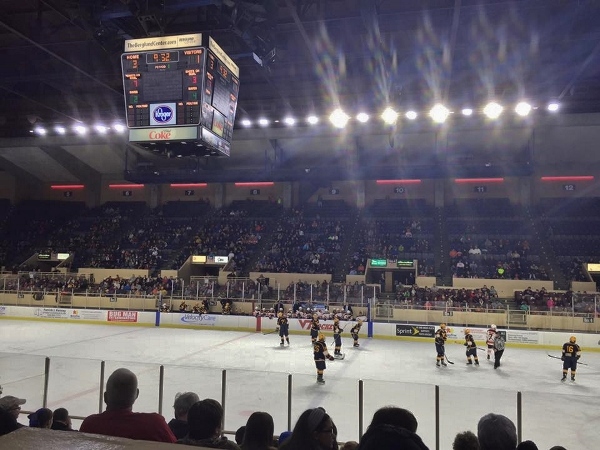 The Berglund Center has hosted Virginia Tech's ACHA team recently, but will now have pro hockey again with the SPHL's Rail Yard Dawgs.  Photo by Dave Maxey for Roaming The Rinks
LNAH: Even
The amazingly entertaining league in Quebec will stay the same for this season, with all 8 teams staying put in their same arenas.  This league is a great destination for a hockey trip as nearly all of the arenas are throwbacks to a bygone era, colorful, and full of rowdy fans who like their fights, their beer, and their air horns.
FHL: Plus - St. Clair Shores Civic Arena     St. Clair Shores Fighting Saints
                     Watertown Municipal Arena     Watertown Wolves
         Minus - Brewster Ice Arena     Brewester Bulldogs
                       Hara Arena     Dayton Demolition
The Federal League certainly has seen its share of volatility since the first puck drop in 2010, but it keeps plugging along.  The Watertown Wolves took a season off as their arena was renovated, but will return this season as one of the stronger franchises.  St. Clair Shores will play in their tiny barn as an expansion team, but close proximity to Port Huron should make for a good rivalry.  Sadly, Hara Arena, which has been home of hockey in Dayton since the 1960's, is closing its doors.  This barn was a bit large for the FHL, but had a ton of charm and character and will be missed. Fans were on top of the action there, and the low glass and wooden seats provided for an atmosphere not found at many arenas anymore. Brewster was  a stop-gap measure to keep the league at 6 teams last season, and will go back to being a community arena and home of a couple Tier 3 junior teams.  As it was only 20 minutes from Danbury, folks in that area can still enjoy hockey.  As of now the league will field 6 teams, but that could always change.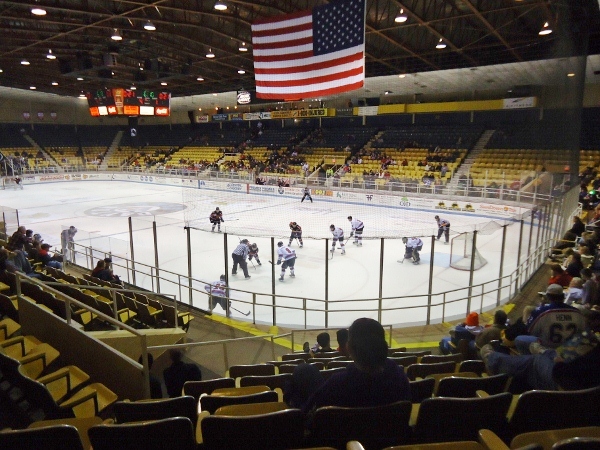 Sadly, Hara Arena in Dayton, Ohio is closing its doors.  The old school barn was a great place to watch hockey.          

A lot can happen between now and when the puck drops on the season. We'll keep you posted. Look for more Plus/Minus Arena Reports covering juniors, college, pro, and even some semi-pro leagues and venues. If things change as the season approaches we will keep you up to date, and hope you will get out to some arenas to see lots of live hockey this season.