It's back again for 2016-2017.  We've decided to help arena roaming fans keep track of new arena opportunities, as well as those venues that may end up with new hockey tenants, or end up closing or vacant this upcoming season.  We'll have a series of reports as the season gets closer.  Today we will take a look at what is happening from an arena standpoint in the 4 best junior leagues in North America.
WHL: Plus -  Rogers Place     Edmonton Oil Kings
                        Langley Events Centre     Vancouver Giants

Minus-  Rexall Place     Edmonton Oil Kings
               Pacific Coliseum     Vancouver Giants
The most active league for arena changes this upcoming season is the Western League.  The leagues loses 2 former NHL venues in key markets, and sees the teams move into 2 new homes.  In Edmonton, the Oil Kings will join the Oilers at the new Rogers Place, with Rexall Place still being used for non-hockey events in the city.  The Giants will move into the 5300 seat Langley Events Centre and head for the suburbs into the arena which also serves as home of the Vancouver Stealth NLL team.  This mid-sized arena was occupied by the BCHL's Langley Rivermen previously, and should make a good venue for the Giants.  The rest of the 22 team league will stay in place, although there are rumors of some franchise shuffling in the future. 

.
OHL: Even - 
In Ontario things stay the same as last season.  The 20 teams will all call the same venues home, and things seem stable for the OHL.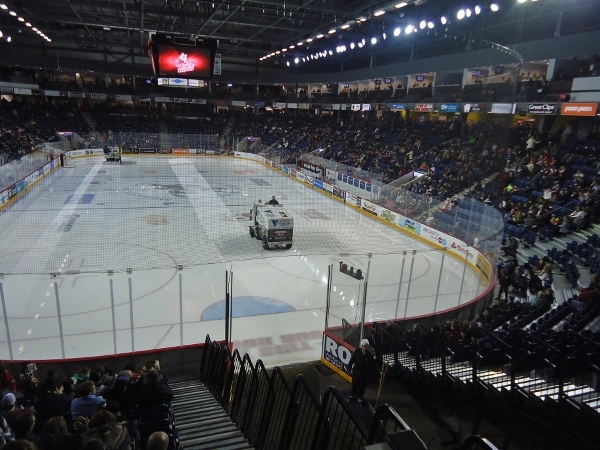 The Meridian Centre in St. Catharines, Ontario remains as the newest venue in the OHL this upcoming season.

QMJHL: Even-
Over in the Q all 18 teams keep plugging along, with no arena changes in site, although there are constant rumors of some of the smaller market teams moving.  Quality hockey and entertaining atmospheres can be experienced in nearly all of the venues in the QMJHL.

USHL: Even-
Although not technically a major league league, the USHL rises above all other American-based junior leagues.  Although the schedule has not been released it appears that things will be status quo this upcoming season.  In the 2016-2017 season the league will remain at the odd number of 17 teams, all of which will be in their same arenas as last season.   
A lot can happen between now and when the puck drops on the season. We'll keep you posted. Look for more Plus/Minus Arena Reports covering juniors, college, pro, and even some semi-pro leagues and venues.  If things change as the season approaches we will keep you up to date.