We've decided to help arena roaming fans keep track of new arena opportunities, as well as those venues that may end up with new hockey tenants, or end up closing or vacant this upcoming season. We'll have a series of reports as the season gets closer, and this week we will take a look at the locations that fans can enjoy outdoor hockey this Winter is they so choose.  It's getting cold out and outdoor hockey is just around the corner.  Here's what's happening on the outdoor hockey scene this season:
Raley Field     Sacramento, CA     Golden State Hockey Rush     Bakersfield vs. Stockton     AHL     December 18th
The outdoor season will kick off in California of all places, as the AHL westward movement includes an outdoor game at the home of minor league baseball's Sacaremento River Cats.  Both Stockton and Bakersfield have made the transition from the ECHL, and this game will likely be a novelty to fans in California's Capital City.

Brewster Ice Arena Pond     Brewster, NY     Outdoor Border Wars   Danbury vs. Brewster    FHL      December 20th
The Federal League gets in on the outdoor action this season as rivals Danbury and Brewster will do battle on the permanent outdoor rink on the property of the Brewster Ice Arena.  We presume temporary seating will be brought in, and with the rink being in place all Winter long, better than average ice conditions can be expected for an outdoor game.
Gillette Stadium     Foxboro, MA     NHL Winter Classic     Boston vs. Montreal     NHL     January 1st
The annual Winter Classic may seem a bit played out, and will feature rivals the Bruins and Canadiens in a battle on the home field of the NFL's New England Patriots.  Sadly there will be no college hockey outdoors this year, despite the abundance of Hockey East teams in the area.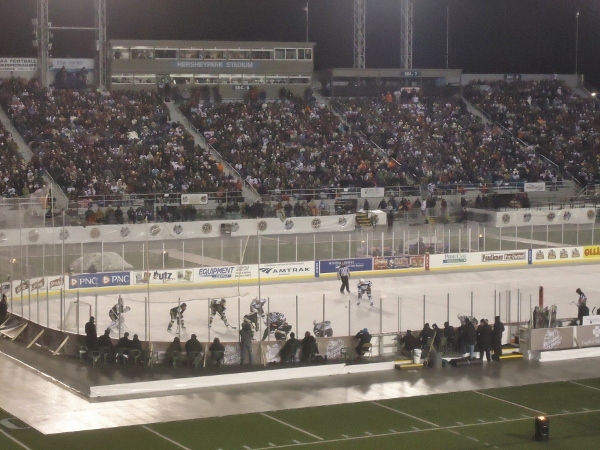 Outdoor games, such as this one at Hersheypark Stadium in 2013, seem to be a bit less common this season than in recent years.
Coors Field     Denver, CO     Battle on Blake   U. of Denver vs. Colorado College     NCAA     February 20th
College hockey takes to the ice on the diamond of the Colorado Rockies.  This rivalry matchup will certainly be well attended, and will kick things off in the Mile High City before NHL game on the field the following week.
TCF Bank Stadium     Minneapolis, MN     NHL Stadium Series     Chicago vs. Minnesota     NHL     February 21st
The NHL takes their outdoor show to the Twin Cities at the home of the Minnesota Golden Gophers and the NFL's Vikings.  Oddly, the Gopher hockey squad will be absent from the action and Wild fans will have this event all to themselves.
Coors Field     Denver, CO     NHL Stadium Series     Colorado vs. Detroit     NHL     February 27th
The NHL Stadium Series wraps up in Denver with the NHL squads taking the ice a week after the college hockey battle at the same venue. 
Outdoor games can be a lot of fun, and since they rarely take place in the same venue again, can make for memorable experiences.  Just don't forget about the hassle and big crowds that frequently accompany this type of game, as well as the increased expense from seeing your favorite team in their normal indoor home.  Although you will likely be seated far from the action, watching hockey outdoors is something every hockey fan should experience.
Stay tuned to the Plus/Minus Arena Report as we will have reports from the college,pro, and junior hockey arena changes as they become known, so that you can see hockey at as many venues as possible.