We've decided to help arena roaming fans keep track of new arena opportunities, as well as those venues that may end up with new hockey tenants, or end up closing or vacant this upcoming season. We'll have a series of reports as the season gets closer, and this week we will take a look at this season in college and the one arena change as well as lots of alternate venues where you can catch college hockey this season.
Plus - Baxter Arena  Omaha, NE   UNO Mavericks
Minus - CenturyLink Center   Omaha, NE     UNO Mavericks
The only major arena change in the college ranks this season find Nebraska-Omaha opening a new on-campus venue.  We're sure they will pack the place.
College hockey is great for the occasional neutral site tournament or one-off game, and there are quite a few opportunities to catch college hockey at non-traditional venues each season.  We'll outline these here.  Some are reoccurring tournaments that have almost as much tradition as college hockey itself, such as the Beanpot, while others are first time chances to see college hockey played in different locations.  We're not including places that serve as home to multiple games for the same team, such as Portland's Cross Insurance Arena who hosts the Maine Black Bears, as that those games occur regularly enough to be considered semi-regular.  Arenas included range from NHL sites to an arena overseas.  Here's where you can catch college hockey this season at alternate venues:
Bonus Plus - 
Sun National Bank Center  Trenton, NJ   10/30 & 10/31  Capital City Classic   Yale, Princeton, Maine and UMass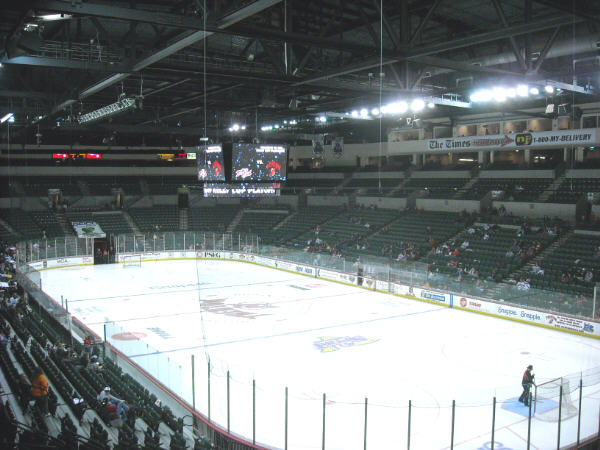 The Sun National Bank Center in Trenton will host big time hockey for the first time in a couple years with a college hockey tournament in late October 

Barclays Center  Brooklyn, NY   11/1   Bentley vs Army
Odyssey Arena  Belfast, Northern Ireland   11/27& 11/28  Friendship Four   Brown, Colgate, UMass-Lowell, Northeastern
Wells Fargo Center  Philadelphia, PA    11/29   Vermont vs Penn State
Germain Arena  Estero, FL   12/28 & 12/29  Florida College Classic  Ohio State, BC, Providence, Cornell
Consol Energy Center  Pittsburgh, PA   12/28 & 12/29   Three Rivers Classic  Penn State, Robert Morris, Clarkson, UMass-Lowell
Joe Louis Arena  Detroit, MI  12/20 & 12/31   Great Lakes Invitational   Michigan, Michigan State, Michigan Tech, Northern Michigan
Times Union Center  Albany, NY  1/23  Mayor's Cup   RPI vs Union
KRock Centre  Kingston, ON      11/23   RMC vs Army
Xcel Energy Center  St. Paul, MN   1/30 & 1/31   North Star College Cup   Minnesota, Minnesota State, Bemidji State, St. Cloud State
Madison Square Garden  New York, NY   1/30   Michigan vs Penn State
TD Garden  Boston, MA    2/1 & 2/8  Beanpot   BC, BU, Northeastern, Harvard
MassMutual Center  Springfield, MA   2/9   AIC vs UMass
Coors Field  Denver, CO     2/20    Outdoor Classic   Colorado College vs Denver
Nationwide Arena  Columbus, OH   3/6   Ohio State vs Michigan
Interesting venues include the Sun National Bank Center in Trenton, which has gone without a hockey tenant since the ECHL's Titans left, and Odyssey Arena in Belfast, which adds an international flavor to the college hockey season.  Whether you attend a traditional tournament such as the onces in Boston or Detroit, or take in a game in a warmer climate like Florida there is plenty of college hockey to enjoy this season.
Stay tuned to the Plus/Minus Arena Report as we will have reports from the college,pro, and junior hockey arena changes now that the season gets is in full swing.