We've decided to help arena roaming fans keep track of new arena opportunities, as well as those venues that may end up with new hockey tenants, or end up closing or vacant this upcoming season. We'll have a series of reports as the season gets closer, and this week we will continue our look at Tier 2 Junior A hockey in Canada and the U.S.  We'll break things down league-by-league and let you know what to expect for next season
OJHL:  Plus -  Markham Centennial Centre, Markham, ON     Markham Royals
             Minus - Dave Andreychuk Mountain Arena, Hamilton, ON     Hamilton Red Wings
In the OJHL this year there is a single switch among arenas.  Hamilton moves to Markham, giving new life to the Centennial Centre, who last hosted the Markham Waxers.  Hamilton fans will get a new Allan Cup Hockey League Semi-pro team in place of the Red Wings. 
CCHL:  Status Quo
In Eastern Ontario things will remain the same this season, with a dozen teams taking the ice in the same locations as last season.
LHJQ: Plus - Centre Sportif Robert-Lebel, Chambly, QC     Chambly Forts
                         Buckingham Arena, Gatineau, QC     Gatineau Flames
              Minus- Kahnawake Sports Complex, Kahnawake, QC     Kahnawake Condors
                            Arena Pete Morin, Lachine, QC     Lachine Maroons
                            Stade L.P. Gaucher, St.-Hyacinthe, QC     St.-Hyacinthe Laureats
                            Thibault Sports Complex, Sherbrooke, QC     Sherbrooke Cougars  

Some changes in Quebec find a new team further west than in the past, with Lachine moving to Gatinuea to take the place of the Gatineau Mustangs of the EOJHL, who were elminated from that league when the Junior B circuit affiliated with the CCHL.  Kahnawake moves to Chambly, and Sherbrooke and St.-Hyacinthe head for the CEGEP collegiate league in Quebec.  The LHJQ will skate with 12 teams this season.
MHL:  Status Quo
In the Maritimes things will stay the same this season with 12 clubs again in action across the 3 Maritime Provinces.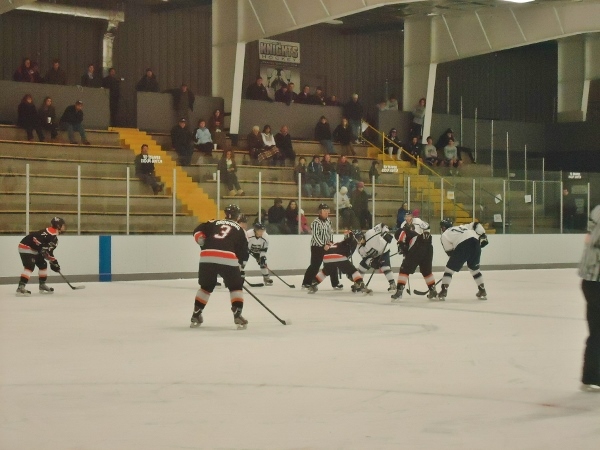 Revolution Ice Centre in Pittston, PA will become a Tier 2 venue this season as the Wilkes-Barre Scranton Knights move from the Eastern Hockey League to the NAHL
NAHL:  Plus - Revolution Ice Centre, Pittston, PA     Wilkes-Barre Scranton Knights
                         Middletown Ice World, Middletown, NJ     New Jersey Titans
                          IceWorks Skating Complex, Aston, PA     Aston Rebels
            Minus - Pullar Stadium, Sault Ste. Marie, MI     Soo Eagles
                           Perani Arena,  Flint, MI     Michigan Warriors
                           The Ice Mine, Connellsville, PA     Keystone Ice Miners
                           Town Toyota Center, Wenatchee, WA     Wenatche Wild
                           State Farm Arena, Hidalgo, TX   Rio Grande Valley Killer Bees
On the U.S. Tier 2 scene there has been a bit of a shakeup,with the loss of 2 teams to their Canadian counterpart leagues (Soo and Wenatchee), and a movement east which finds the NAHL in Eastern, PA and New Jersey.  How crowds take to the Junior product in these areas that have pro teams close by will remain to be seen until the season starts, as Wilkes-Barre, Aston, and Middletown all has Tier 3 teams which flew under the radar as far as attracting large crowds go.  
Stay tuned to the Plus/Minus Arena Report as we will have reports from the Junior B, Semi-Pro, and College ranks before the season gets into full swing.