We've decided to help arena roaming fans keep track of new arena opportunities, as well as those venues that may end up with new hockey tenants, or end up closing or vacant this upcoming season.  We'll have a series of reports as the season gets closer, and this week we will focus on Tier 2 Junior A hockey in Canada and the U.S.  We'll break things down league-by-league and let you know what to expect for next season.
BCHL:  Plus - Town Toyota Center, Wenatchee, WA     Wenatchee Wild
We'll start out West, and the BCHL will now become a 17 team circuit with the addition of a U.S. based team for the first time in 2 decades.  Wenatchee makes the jump over from the NAHL and will face a much more travel friendly schedule.
AJHL: Status Quo  
Things will stay the same this season as they were the last in Alberta.  Nonetheless there are quite a few interesting barns for fans to attend in the AJHL.
SJHL:  Status Quo 
In Saskatchewan there are also no changes for this upcoming season as the league will remain at 12 teams and continue to be one of the most stable leagues in junior hockey.
MJHL:  Status Quo
Manitoba hockey fans will find no arena or team changes this upcoming season with 11 teams mixing it up in the regular season.
SIJHL:  Status Quo
Although the Superior International Junior Hockey league has had quite a bit of turnover in the recent past things shape up the same as they did last season with 5 teams on the slate.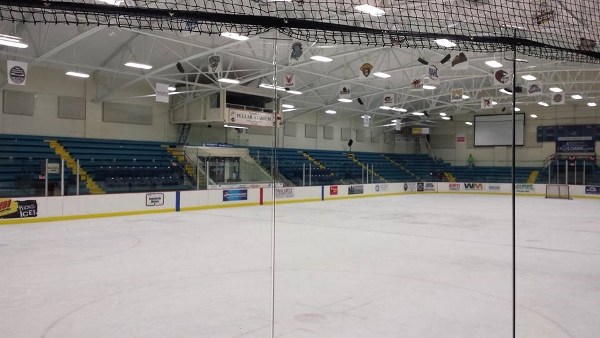 Pullar Stadium in Sault Ste. Marie, Michigan will become a NOJHL arena once again as the Soo Eagles move back into the Ontario Based league.  Photo by Sean Moloney for Roaming The Rinks
NOJHL:  Plus-  Espanola Regional Recreation Complex, Espanola, ON     Espanola Express
                            Chelmsford Community Centre, Chelmsford, ON     Rayside-Balfour Canadians
                             Noelville Arena, Noelville, ON     French River Rapids
                             McIntyre Arena, Timmins, ON     Timmins Rock
                             Pullar Stadium, Sault Ste, Marie, MI     Soo Eagles
              Minus-  McClelland Arena, Copper Cliff, ON     Sudbury Nickel Barons
                             Rodden Arena, Mattawa, ON     Mattawa Blackhawks
Things in Northern Ontario are shaking up a bit this season as the NOJHL grows to 12 teams.  Of note is that the team known as the Abitibi Eskimos, who played occasional games in Timmins, has relocated to become the Timmins Rock.  Mattawa has now relocated up to Iroquois Falls taking the Eskimos place and will be known as the Iroquois Falls Eskis.  Sudbury also decided to relocate becoming the team in Chelmsford.  Espanola and Soo rejoin the league after playing elsewhere last season.     
Part 2 of our Tier 2 coverage will continue to march East across Canada and will also include the NAHL.  We'll keep you posted. Look for more Plus/Minus Arena Reports covering more junior leagues, college, pro, and even some semi-pro leagues and venues.