We've decided to help arena roaming fans keep track of new arena opportunities, as well as those venues that may end up with new hockey tenants, or end up closing or vacant this upcoming season. We'll have a series of reports as the season gets closer.  This time we'll focus on the 4 best Junior leagues in North America 
 

WHL: Plus -   Medicine Hat Regional Event Centre     Medicine Hat Tigers

Minus-            Medicine Hat Arena      Medicine Hat Tigers
In the Western League this upcoming season there will be no new franchises, but Medicine Hat gets a new venue, with the new arena replacing the 1970 era barn in Southeastern Alberta. 
OHL:  Plus -  Perani Arena             Flint Firebirds 
                       FirstOntario Centre      Hamilton Bulldogs
Minus-           Compuware Arena         Plymouth Whalers

                       Yardmen Arena               Belleville Bulls         
The OHL sees a couple of changes due to relocations this upcoming season.  Belleville loses their team as the OHL moves into Hamilton in place of the AHL Bulldogs.  Plymouth vacates its arena as the USHL moves in, and the franchise moves across Michigan to Flint, and becomes the Firebirds.  Sadly it looks like Yardmen Arena will be without a major tenant as, although the OJHL would be an obvious fit, 2 nearby OJHL teams in Wellington and Trenton would have that market clogged with 3 teams within a 20 minute drive.  Here's hoping the fine folks of Belleville get another team of some sort in the near future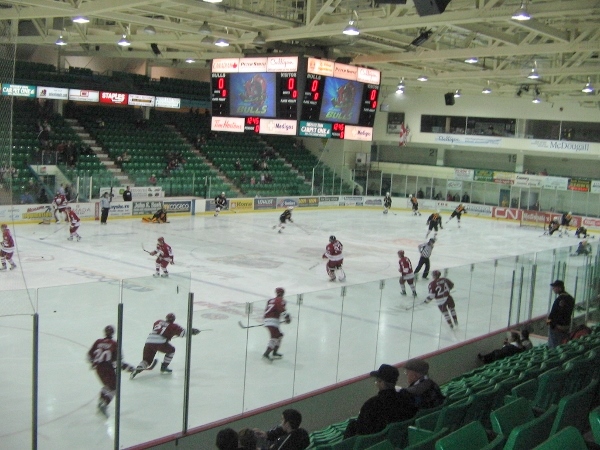 This upcoming season will find Yardmen Arena in Belleville, Ontario without a Junior team to skate on its Olympic sized ice
QMJHL:  Plus-   Centre Videotron        Quebec Remparts
Minus-                Colisee Pepsi            Quebec Remparts
The only change in the Q finds the closure of the classic Colisee Pepsi, former home of the Quebec Nordiques and most recent Memorial Cup location, as the Remparts move into the state of the art Centre Videotron, which was built in hopes of luring the NHL back to Quebec. 
USHL:  Plus-      USA Hockey Arena             USNTDP Team USA
Minus-                 Ann Arbor Ice Cube            USNTDP Team USA
Yes, we know that the USHL is not techinically major junior, but it is the premier league in the States.  This upcoming season the Team USA squad moves out of the small community arena in Ann Arbor and takes over what was known as Compuware Arena in this odd switch from the OHL to the USHL in Plymouth.  We'll see if fans take to the USHL product in Plymouth once the season gets underway

A lot can happen between now and when the puck drops on the season. We'll keep you posted. Look for more Plus/Minus Arena Reports covering juniors, college, pro, and even some semi-pro leagues and venues.